Manton Trails Hotel, RV Park & Campground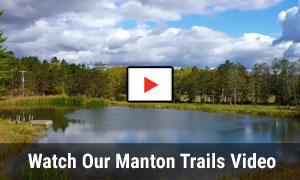 Nestled in the woods next to Manistee National Park and south of Traverse City, the Manton Trails RV Park and Campground is surrounded by some of Michigan's most beautiful wilderness areas. Walk the trails or enjoy one of several lakes that are less than 30 minutes from the Manton Trails.
We have everything from rustic tent camping to RV sites with water and electricity. Manton Trails offers clean comfortable bath facilities and a dump station for RV's. The property also has event facilities that can be rented for group meetings and activities. If some of your party would prefer to stay among 4 walls rather than camping, they can reserve a room at the Manton Trails Hotel located on the property.